Our Faith
Archdiocese of Edmonton
The Archdiocese of Edmonton is a family of faith, dedicated to bringing the Gospel of Jesus Christ to bear on life in our community. Comprised of 378,545 Roman Catholics, the Archdiocese is led by His Grace, Archbishop Richard Smith, who was appointed on March 22, 2007, and Auxiliary Bishop Gregory Bittman, who was appointed on July 14, 2012.
The Archdiocese includes the greater Edmonton area but also covers a geographic region stretching from the Rocky Mountains in the west to the Saskatchewan boundary in the east, from Olds in the south to Villeneuve in the north. In total the Archdiocese covers 81,151 square kilometres. It includes 64 parishes with resident priests in cities, towns, rural areas and native communities, and another 62 parishes and missions without resident priests.
Every Sunday, Mass is celebrated in 15 different languages, including French, Spanish, Polish, Chinese, Croatian, Portuguese, Vietnamese, Italian, German, Hungarian, Korean, Eritrean, Latin and American Sign Language.
For valuable information on youth ministry, visit the youth ministry section of the Archdiocese website here.
St. Michael's Church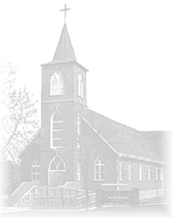 St. Michael's Parish serves the communities of Calmar, Millet, Leduc, Nisku, Thorsby, and Warburg.
5105 – 45A Street
Leduc, AB T9E 2X1
Father Silvichen Dominic, CFIC
Phone: 780-986-3253
Fax: 780-980-2577
E-mail
Website
Planning for Tomorrow - St. Michael's Parish Building Prayer
O Gracious God, today we gather as a parish- "United in the Spirit."   We thank you for your love and wisdom that provides us with the strength to work together.  You always provide us with all we need.  We know our parish needs your support to thrive and grow.  We promise to use the gifts you give us to support our parish. We ask for your guidance about our future parish needs and trust that you will give us the answers in your time.  As we journey into the future, help us continue to work together as a family built on your gifts of faith hope and love. This we ask through Christ our Lord.  Amen.
Are You Interested in Becoming Catholic?
Baptism of Adults: The Rite of Christian Initiation of Adults (RCIA) provides an opportunity for adults (aged 15 and up) thinking of joining the Church to learn more about the Catholic faith. Adult Catholics who have not been confirmed or have not celebrated their first communion are also invited to be part of this process. Meetings are held weekly from September to May. During this time, inquirers are given the opportunity to discern if they wish to become members of the Catholic Church. Interested persons are asked to contact Linda in early September at the parish office, 780-986-3253, to schedule an appointment before starting the process.